INTERIOR DESIGN –
AUTHENTIC FUNCTIONALISM, DECORATIVE ART DECO AND BEAUTIFUL CLASSICAL ARCHITECTURE.

THE APARTMENTS AT VILLA SOANS ARE AVAILABLE WITH COMPLETE INTERIOR DESIGN OF HIGH QUALITY.
Choose between three interior design packages, created by Superellips Interior Designers Galina Burnakova, Kärt Loopalu and Krista Thomson. Each interior design package is created to suit the architecture of Anton Soans's functionalist building. Integrated into the packages are historical details important to the milieu – built-in cupboards, doors characteristic of the era, mouldings, windowsills and other preserved original elements will be restored or replaced with something similar to the original. The original mood is created with stately fishbone parquet. View the packages below or download this PDF for more detailed information.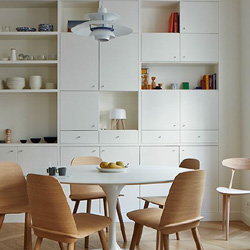 The Funk package is for people who appreciate original Estonian functionalism and want something as close to the original as possible. The general white colour is enriched with 1930s style wallpaper. The floors are covered with original fishtail parquet flooring. The bathrooms have white ceramic tiles and pastel coloured painted walls characteristic of the period.

The Art Deco interior design package, including wallpapers with large decorative patterns, is meant for those with a bolder sense of style. The floor is covered with fishtail parquet, the bathrooms have tiles in colours characteristic of the period, contrasted with black ceramic mouldings. The sanitary ceramics and faucets have a robust retro design.
Classic

The Classic package is meant for those people who prefer a more neutral background to which they can add their personal touch. The package is characterised by white tones, minimalist wallpaper, romantic sanitary ceramics and high quality bathroom fixtures, as well as black and white ceramic tiled bathrooms. The floor is covered with fishtail parquet.
Images are illustrative and express the colour range and mood of the interior design packages.